Here are some ideas and tips on how you can get more out of the Google Workspace in your school 
If you use Google Workspace in your school, chances are you will have a working understanding of the different apps and their features. But like with any tech, there's always more to learn! Here are some of our tips on how you can get the most out of GWS in your school. 
Access to the Google Admin console 
If your school has an external IT provider, chances are they will be managing this for you in the background without you needing to think about. This can have its benefits, but it really does pay to have a few key staff within the school with at least a working understanding of the Admin Console and how to do some of the basic tasks, e.g., creating accounts, resetting passwords, managing access to apps and websites, etc. Otherwise, schools are often left completely reliant on their IT support whenever anything needs to be done, which can mean delays to getting the help you need. Not every task should need an email or a phone call to action.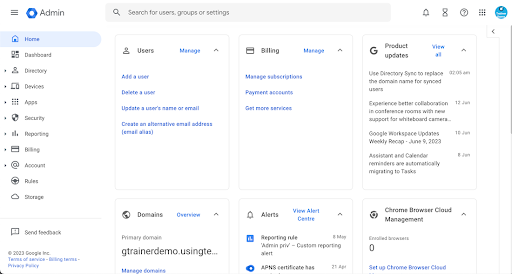 Being intentional about Chromebook management 
If you're using GWS, chances are you will have Chromebooks. These are brilliant tools for learning, and are a great, cost-effective option for schools wanting devices in the hands of their learners.  
Managing your school Chromebooks is a way of ensuring the safety and ongoing maintenance of your device fleet. We would recommend going through the Enterprise Enrolment process with any school-owned devices, as a way of ensuring that they are looked after. Once this process is completed, you'll notice a message on the login screen that reads 'managed by yourschool.school.com' (pictured)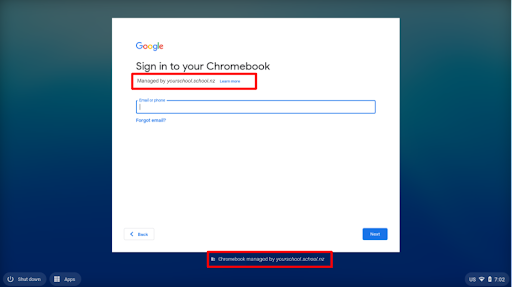 The benefits of Enterprise Enrolment for schools are numerous – some of these include ensuring Chromebooks are being updated automatically, managing security protocols, and the ability to deactivate them if they are lost or stolen, as well as many more. 
Have a plan for device allocation and management 
Whether your school is 1:1 (each child has their own allocated device), 1:2/1:3 (devices are shared across 2/3 children) or BYOD (bring your own device), it is worthwhile having a process in place for keeping track of who is using what device.  
In 1:1 environments, having a list of student names and emails and device serial numbers/SNIDs is important in order to keep track of who is using which device. You can easily get a list of enrolled drives from within the Google Admin console by going to Devices > Chrome > Devices.  
In settings where a group of Chromebooks are being shared across several classes or students, it's important that there is a plan for how these devices will be used by learners. Each time that learner signs into a Chromebook using their school email account, it takes up an allocation of the internal storage space on the device. This means if a new user signs in each time and users keep getting added again and again to a Chromebook, eventually all the internal storage space will be taken up, inhibiting the device from being used to its potential. 
An effective way to avoid this is a system where devices are allocated across classes with the same student using the same device each time it's in their class. E.g. Chromebook 1 gets used by James in Room 1, Sam in Room 2 and Tom in Room 3. This way, instead of having 30+ different accounts, there will be James', Sam's and Tom's, and possibly a few others. Other students can still sign in where needed, but it would be recommended that they are taught to click on 'Remove person' at the sign in screen once they are finished using the device. 
As educators, we have a duty of care when our learners are at school, and this extends to when we are exposing them to the big, wide world that is the internet. Hāpara was built out of a school in East Auckland in 2011 as a way for teachers to safely manage their learners' online activity using Google Workspace on Chrome devices. It allows teachers to see, access and interact with the work of their students.  
The Highlights feature was later added, meaning teachers had the ability to view which tabs students had open and see their current screens. This gives teachers increased visibility and allows them to redirect and refocus their students where needed. 
There are other software options on the market that give you visibility over what students are doing on their devices too, and some that allow you to manage access to files. But what we love about Hāpara is its ability to do both!
If you'd like to learn more about Google Admin, Google Workspace or Hāpara training for your organisation or school, book a discovery call with our expert team to talk about the needs for your context: Schedule a call here.
You can also access online training for GWS and more by heading to our website and viewing our online and on demand training options here.