Lately, I have had a number of conversations with teachers about whether entertainment can help you engage your students.
It is not uncommon for a teacher to lament the fact that they feel like they are spending more time trying to capture and hold the attention of their students than they are in meaningful learning.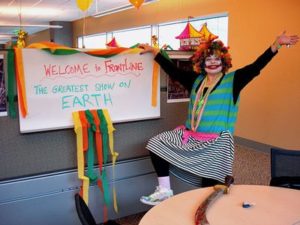 Some blame the rise in popularity of gaming, others the amount of time students spend online, still others fast changing TV shows and movies for the apparent decrease in the attention spans of their students.
Either way, I think that is helpful to understand the following:
1.  GETTING THE ATTENTION OF YOUR STUDENTS IN DIFFERENT WAYS IS NOT A BAD THING!
One particular teacher I was speaking with this week was accused by some of her fellow staff members of being 'all about entertainment' because she used creative ways to capture and hold the attention of her students.
I'm not sure why using creative ways to engage your students is a bad thing.
Research has shown that the brain is hard wired to make predictions, and when a prediction is made the brain pays attention to see if it is right.
So if you do things like:
Walk into the room backwards
Wear a different type of hat
Put an image up on the board and ask the students to predict how that image relates to the topic
Have the students make a hypothesis about the outcome of an experiment
Solve a problem in a new way
Then the students should be more engaged.
2.  USING ENTERTAINMENT TO ENGAGE YOUR STUDENTS HAS BEEN USED FOR CENTURY'S
All forms of entertainment such as storytelling and dance have been used as an effective way to pass on information.
If I think back on my schooling, I can still remember the lessons that were taught by the travelling science show and the backyard animal show.  I wonder why schools are happy to pay money to an 'expert' to come in and use entertainment to engage your students, yet this teacher was looked down on for doing the same thing.
3.  LEARNING DOESN'T HAVE TO BE SERIOUS
As a teacher it is always good to remember that just because your students are sitting nice in rows and quietly doing a worksheet doesn't mean that they are engaged.
They well might be compliant.  But compliance does not automatically equate to engagement.
So this week, think of 3 ways you can creatively get and hold the attention of your students.  Have them make a prediction, and teach them something during the process.