A great 21st Century Learning Skill (I would ague the century is irrelevant), is to be able to cite other sources correctly.
In Australia, the ACARA ICT General Capabilities (Australian National Curriculum for our overseas readers) suggest that a student should credit other peoples images by the end of year 4 and cite all sources including authors names and websites by the end of year 6.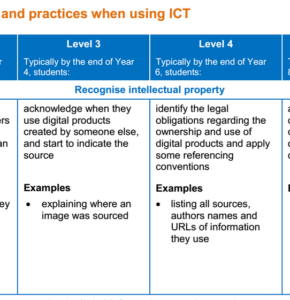 Here is the easiest way for your students to cite images:
If your students are using Chrome as their browser to access their Google Docs, they can click on Tools then Research.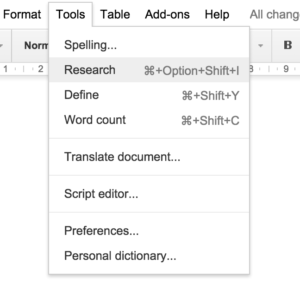 From there a section will open up on the right of the page.
Your students can then type in the subject and click the little g next to their search term and choose images.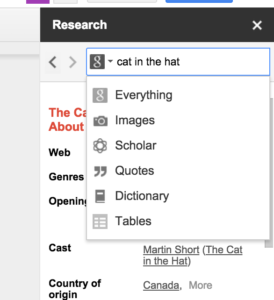 A number of images will appear.  Your students then just simply drag and drop the image into their Google Doc.  When they do, the image will be automatically cited (see the number 1 in the image below) and the link in the footer at the bottom of the Google Doc.
Here is the easiest way to cite resources such the author name and websites:
In your Google Doc you need to add an add-on called EasyBib Bibliography creator.
Once EasyBib has been added to your Google Doc, it will be available in all your Google Docs, including the Google Docs already created.
To cite your resource, click on add-ons, then EasyBib, then Manage bibliography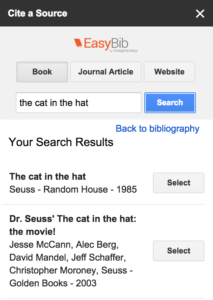 Type in your resource you want to cite, choose the format (website, book, journal) and click search.
A number of resources will appear. Choose your citation format (APA, MLA and Chicago) and then click add bibliography to doc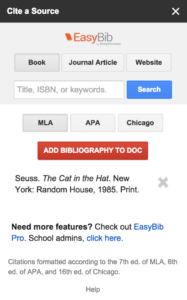 A new section will be added to the end of your Google Doc titled works cited with your citation correctly formatted.

There are other bibliography Add-ons inside the add-on sections in Google Docs, and I am sure more will be added soon.
The following two add-ons are worth a look.
You might like to check out Bibliography by Diigo
ProQuest Flow is great for tertiary students
Find other great resources like these in the Unlimited Training and Support Community