Embrace the Reflect tool across Microsoft for Education to improve wellbeing in your learning space
Social and emotional learning (SEL) is a vital component of education that helps students develop self-awareness, self-management, social awareness, relationship skills, and responsible decision-making. Research shows that SEL can improve academic performance, mental health, and social outcomes for students. In saying that though, it is probably the one data point that gets neglected when it comes to collecting evidence of how our students are tracking. Here's how you can change that.  
Reflect is a free check-in app that allows students to share their feelings and emotions with their teachers and peers using emojis and characters. Teachers can create custom or pre-made questions to check in with their students on a regular basis and view their responses in real-time or over time using Insights.
Reflect can help teachers: 
1. Build a strong classroom community by making SEL a part of their routine 
2. Grow students' emotional vocabulary and empathy for their peers 
3. Identify students' strengths and areas of improvement 
4. Differentiate instruction and support based on students' needs 
5. Celebrate students' achievements and progress 
Reflect in Class Teams 
To get started with Reflect in Class Teams, teachers create a new check-in by choosing from the available questions or creating their own. They can also decide how long the check-in should be open, which vocabulary set to use, and what information to share with students. Once the check-in is created, students will be notified and can respond using the emojis and words that best describe their feelings. Teachers can view the responses in the Reflect tab or in Insights, and initiate conversations or interventions as needed.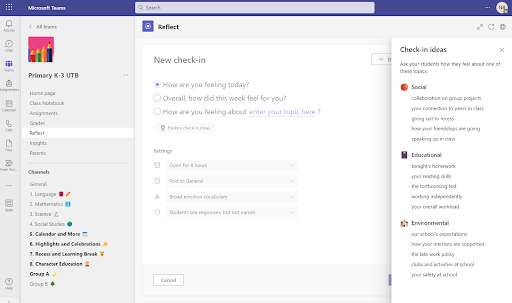 Hint: If completing a check-in that is wellbeing or emotions focus, limit the time to complete to the minimum 5 min timeframe, that way, the data is truly reflective of how the students are feeling.  
Extra hint: click on 'explore check in ideas' to expand and see even more inspiration for how to use Reflect. 
Reflect in Class Notebook 

Another way that teachers can use Reflect is by embedding it in their Class Notebook. This allows them to check in with students on specific topics or assignments, and get a sense of their baseline knowledge, confidence, and motivation. Teachers can also use Reflect for formative assessment and feedback purposes.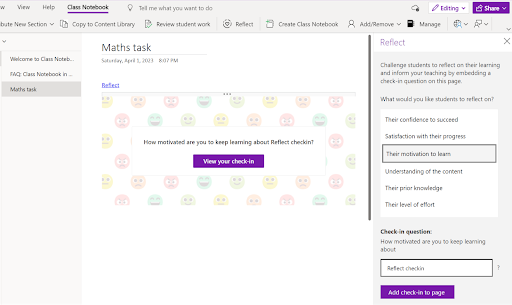 Reflect in Minecraft Education 
To enhance the SEL experience for students, teachers can also use the brand-new Minecraft Education world for Reflect. This world is designed to help students explore their emotions and learn coping strategies through immersive gameplay. Students can interact with different scenarios and characters that represent different emotions and reflect on how they would handle them. Teachers can use this world as a launchpad for discussions and activities around SEL to support their learners to build their emotional vocabulary.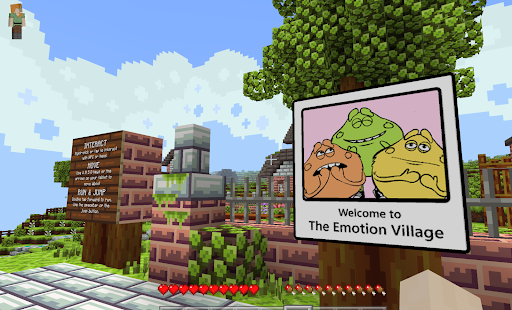 Hint: have students record their experiences inside this Minecraft world using Flip so that learns can narrate their journey with a screen recording. 
Reflect is a powerful tool that can help teachers foster a positive and supportive learning environment for their students. By using it regularly, we can help students develop essential skills for life-long learning and wellbeing. 
Level up your use of Microsoft Teams to engage learnings and easily track student progress by joining our upcoming training: register here.