There are some great plagiarism tools for teachers, some paid and some free.  Below are the best free and paid plagiarism tools for teachers (plus a bonus Google Add-on).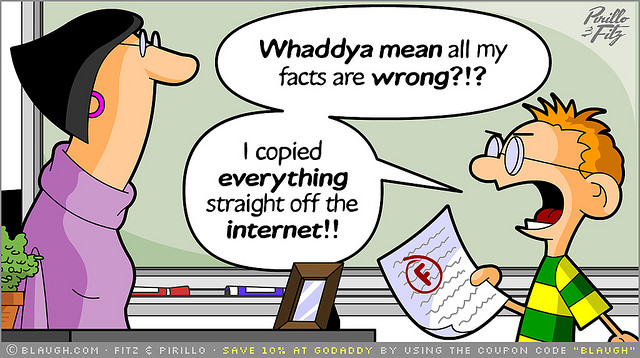 The ability to find, assimilate and produce your own work is becoming increasingly hard for students and the temptation to plagiarise is becoming harder to resist.
Here's why:
There is a massive shift taking place in education.  When I did a research task as a student in high school, I would go to the library, get a number of books and then lay those books all out in front of me.  As I found information in each of those books, I would need to assimilate that new information into my notes and then rework the assignment to make the text cohesive.
I was limited to the information that was made available in the libraries in my district.  If the information wasn't in those books, it didn't exist.
It was easy for us to plagiarise because their wasn't plagiarism checkers, but at the same time we didn't have an overabundance of information to choose from.
"Now students have such a vast amount of information available to them, the hard part isn't finding SOME information, it is finding RELEVANT information."
[bctt tweet="Now students have vast information available, the hard part isn't finding SOME information, it is finding RELEVANT information." username="mikereading"]
An ethics survey in 2010 looking at student cheating found the following:
Rampant cheating in school continues. A majority of students (59 percent) admitted cheating on a test during the last year, with 34 percent doing it more than two times. One in three admitted they used the Internet to plagiarize an assignment.
THIS LINK will take you to an image search for the image above.  Have a quick look at all the educational organisations stealing this image for their websites without permission or acknowledgement.
In Australia, the ACARA ICT General Capabilities require that students be able to recognise ownership over their own work by the end of the first year of school and understand that they shouldn't copy someones work by the end of year 2.
There are easy ways for your students to cite their sources (see the next post), but how do we quickly check for plagiarism?
Paid Plagiarism Tool:
TurnItIn. Turn it in is one of the most popular plagiarism tools for teachers.  Schools have found the cost to be well worth the benefits that this tool brings to the school.
Turn it in isn't just a plagiarism tool, there are several other tools that enable teachers to sync documents to their tablet for marking, provide formative feedback to students etc.
Best features:
Can check websites, databases, academic articles and websites
Is robust and used by tens of thousands of organisations
Provides teachers with a percentage of student work that has been plagiarised
Can check the whole document at once
Will show the teacher the original source (you should check the original to guard against false positives)
Downside:
The Cost (educational pricing is available, but will be expensive if it is just another tool no one uses)
Some teachers have had issues with documents returning false positive results
Can take longer to mark an assignment if you are also checking positive results
Free Plagiarism Tool:
plagiarismchecker.com. Plagiarism Checker is a free tool that was designed by a school teacher.  There are some great resources in this site for teachers to teach about plagiarism.


Best features:
It's free
Really easy to use
Lessons on plagiarism
Is reasonably accurate
Can check if websites have been plagiarised – interesting activity for students
Downside:
You can only search for phrases not a whole document
Uses Google and yahoo to search for content – if the content is not freely available on the internet, plagiarism checker won't find it
If you are using Google Docs:
There is an addon called Pro Writing Aid.  Pro Writing aid has added a free Plagiarism checking tool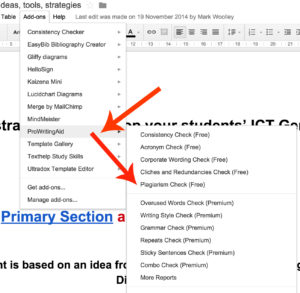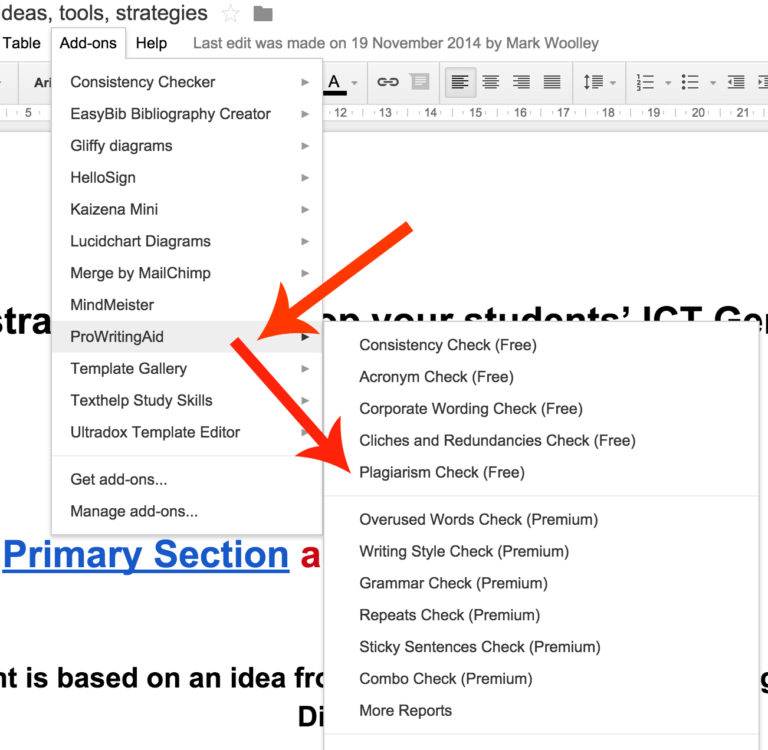 If you want to learn how to use addons in Google Docs, you can access our  Google addons lesson in our Free Technology Course
If you want to access a 90 minute training on helping your students find the most relevant information fast, join the unlimited support community to access this training plus all our other training programs