Here are 3 of my favourite Quick Google Search tips for Maths
Last week I previewed 3 safe search engines for your students. Today I thought I would show you how to use Google search to save your students time in maths. With these quick Google search tips, you can limit your need to use other apps or visit other websites. Instead, you can just use the Google search bar.
Here's how:
1. Calculations: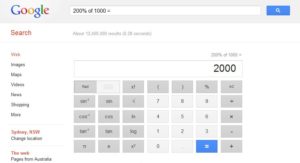 You can just type a calculation into the Google search bar and the first result you will see is a calculator. In the picture above you can see that I typed a bit of an obscure question into Google search but still got an answer.
The calculator is fully functioning, just use your mouse to enter in the numbers and symbols.
This also works on mobile devices. So if you use the Google app you can just speak your question which is perfect for some special needs students.
2. Graphing mathematics: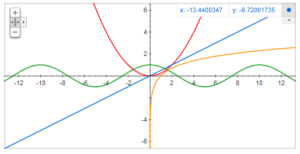 You can now enter some values that you would like to graph straight into the Google search bar. I have previously written a more detailed blog post about this Google search feature.
If you are using a mobile device, you can still use the voice search feature to perform graphs. You just need to start your search query with the work graph. For example "Graph X divided by 2". The use of the mobile device is obviously somewhat limited because of the terminology but you can still use the Google search bar by typing the equation as usual.
3. Convert units and measurements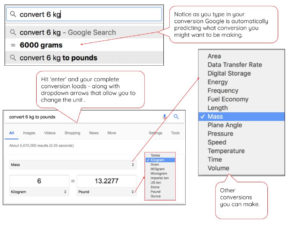 You can see here that I typed convert Kg to lbs. The first result you see is a conversion calculator. You can use this calculator to convert all sorts of units from mass, speed and weight to fuel consumption.
Once again this works by using the speech feature on your mobile device.
I'm sure there are many other quick Google search tools available – I just haven't found them yet. Have you found any more? Let us know in the comment section below. If you would like to learn how you can use all the free tools designed by Google you can check out Google In Education.