Getting your students engaged can often be an uphill battle. But Minecraft is a surefire way to get them riveted. 
In Minecraft Innovative Assessment Practices: Part I we explored three in-game assessment tools (1 Camera, Portfolio, and the Book & Quill 2 Chalkboards and 3 Non-Player Characters) that can help you gain a deeper insight into student learning. 
In this blog, Minecraft Innovative Assessment Practices: Part II, we'll explore two additional tools you can add to your Minecraft toolkit:
1. Flipgrid
2. Classroom Mode
The beauty of Minecraft: Education Edition lies in the worlds that students can explore, mine and craft. However when you are facilitating this gameplay with a large group, it can be difficult for teachers to find time to connect with every student in the group to provide feedback and engage in those meaningful learning conversations. 
This is where you can implement the Resource Link button, using Flipgrid as your tool. After selecting the world you will assign your students, go to the Settings Menu and click on Classroom on the left panel and complete the details under Resource Link. This will add a new button to the Pause Menu so that students can access the link throughout gameplay. Alternatively, you can add the same style button to an NPC (non-playing character) which can be a great way to provide students instructions alongside the resource button.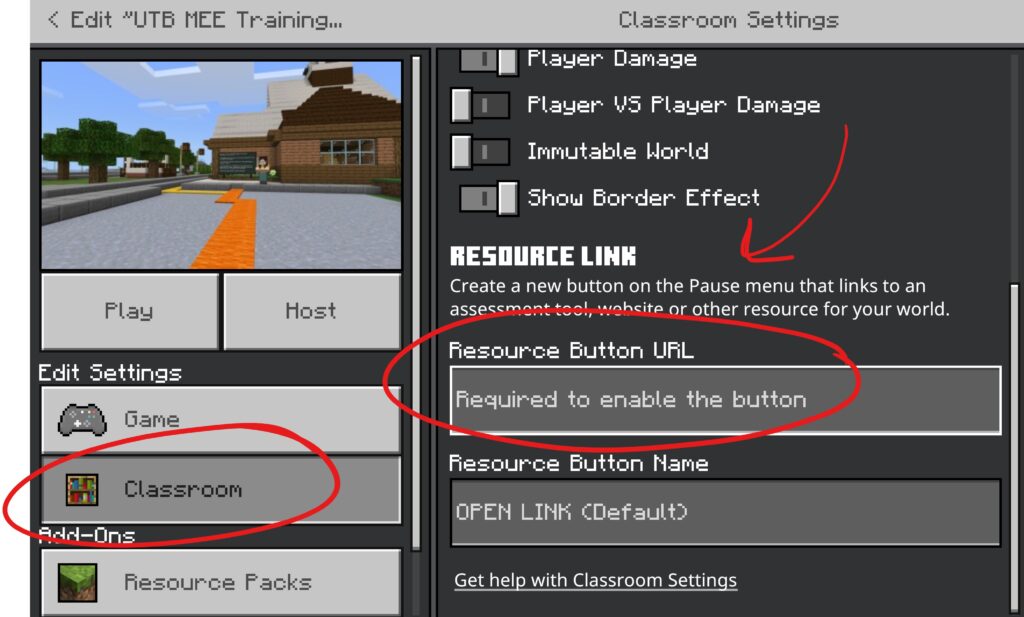 This allows students to use Flipgrid to record their screens and take teachers and peers on a virtual tour through their world. In their narration, students can demonstrate what they have learned through their choice of language, how they articulate problem solving solutions or even talk through how they collaborated with peers. 
What I really love about this assessment pathway is that students and teachers can engage in ongoing dialogue about learning. We know from educational research that video and audio feedback modes improve useability and personalisation of feedback for students, so this tool is fit for purpose and enables peer to peer feedback too.
The best part? You don't have to reinvent the wheel when it comes to the Flipgrid topic either. In the Discovery section of Flipgrid you'll find a whole host of topics already built out by Minecraft Education Edition for you to copy and link for your own students, it really couldn't be easier.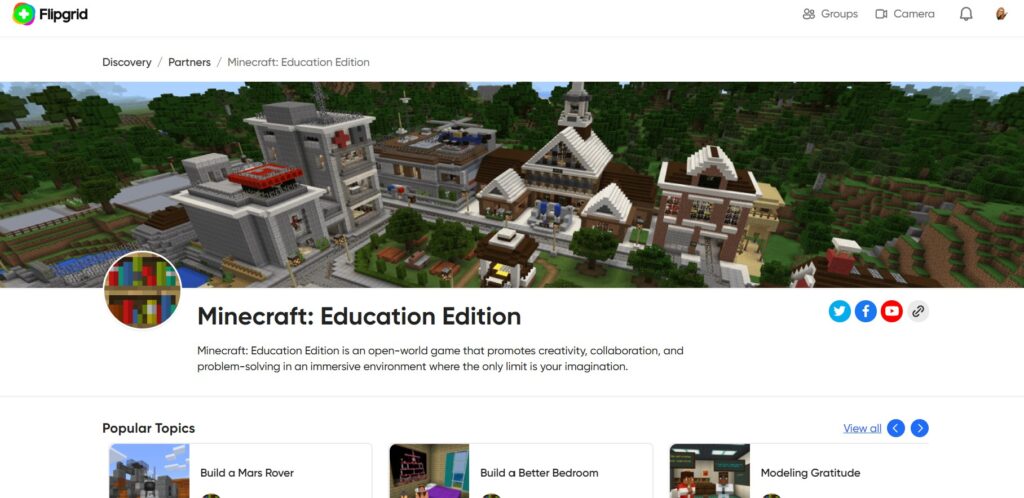 Because students are never solving the same problem or focusing on the same thing at any given time it can be tricky to capture snapshots of learning across the board. Managing multiplayer worlds is made simple using the Classroom Mode companion application for M:EE. 
This central interface allows teachers to manage game settings, map and teleport students. These features allow educators to get an overview of how students are progressing through worlds and redirect learning when students are off-track. 
The super handy chat function means that you can provide timely feedback to individuals and groups, as well as use commands to scaffold new learning.
The Last Word on Assessment
Minecraft Education Edition provides endless ways to engage students and I guarantee that after a play with some of the tools in this blog, you will be just as captivated by the variety for programme implementation as much as your students will be.
Click here >  Innovate Assessment Practices with Minecraft: Part I
Click here > for more on M:EE for the classroom
Click here > Learn on Demand Minecraft Education Edition course
Click here > Live online Minecraft Education Edition workshops