Chasing your tail and never achieving tasks is frustrating and stressful. It doesn't have to be that way. Whizz through your to-do list with this helpful Google Calendar tool.

When I want to get stuff done I carve out some focus time in my day. By using Google Calendar's focus time feature, blocking out chunks of time to work on specific tasks means you'll fly through your to-do list in no time!
Step-by-Step Instructions
How to Put Focus Time into Action
Note: The focus time feature is only available in Google Workspace accounts, not personal Google (e.g. Gmail) accounts.
1. Open Google Calendar and click once on the empty time slot you want to block out.
2. From the pop-up box, choose focus time.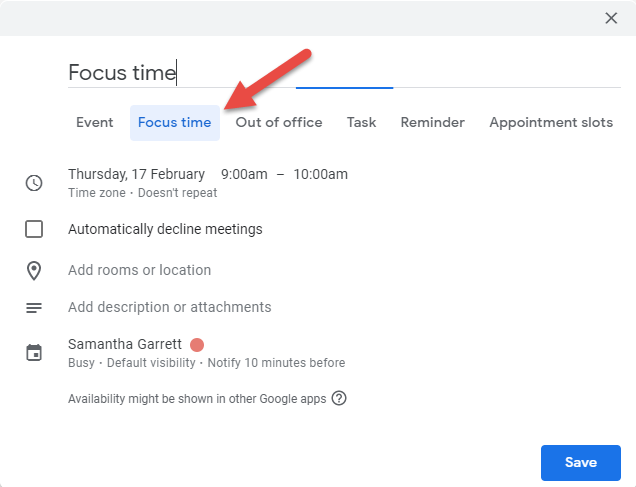 3. Change the name of the event to indicate what you want to focus on during that time. This means no more time wasted trying to remember what you were meant to be focusing on!
4. Decide if you want to automatically decline meetings during this time. If you do, tick the Automatically decline meetings box, choose what to decline and add a custom response message.
5. Click the Add description or attachments section, and add links to any files you plan to work on or any information you'll need to use. This makes it super quick and easy to jump right into the task when focus time rolls around.
6. Consider changing the colour of the calendar entry to make it stand out.
7. Click Save.
8. The focus time will show in your calendar with a headphones icon next to the name. If you choose to change the colour, you'll also see the icon in that colour.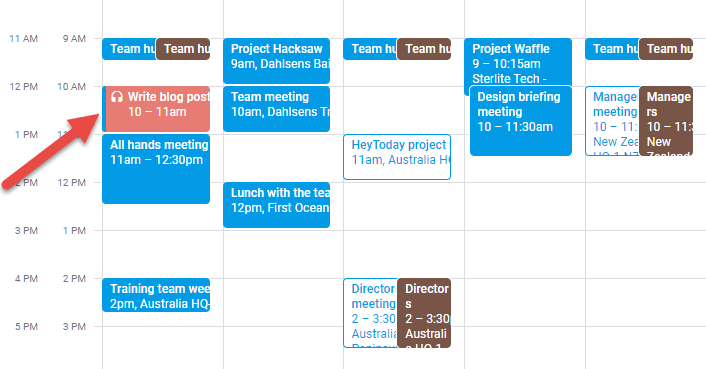 By default, you'll get a pop-up notification 10 minutes before the focus time block starts. That gives you plenty of time to close your email, switch your chat to Do Not Disturb, silence your phone, grab a drink and get ready to knuckle down and slay that to-do list!