Check out these striking visual prompts from Gapminder

 
Looking for ways to grab the attention of your students? Need a real-world context to frame learning? Dollar Street from Gapminder.org has tons of photos and videos from around the world which will get your students frothing! Some ideas and ready made resources are available too! 
What is Dollar Street? 
Dollar Street (www.gapminder.org/dollar-street) is designed to counteract the media-skewed view of life around the world. We all live somewhere on Dollar Street according to our household income. Now we can search and filter results to get genuine images of everyday life from over 50 different countries in The Americas, Africa, Europe, and Asia. 

How do I navigate around Dollar Street? 

Head to www.gapminder.org/dollar-street and you will land on a page like the one below: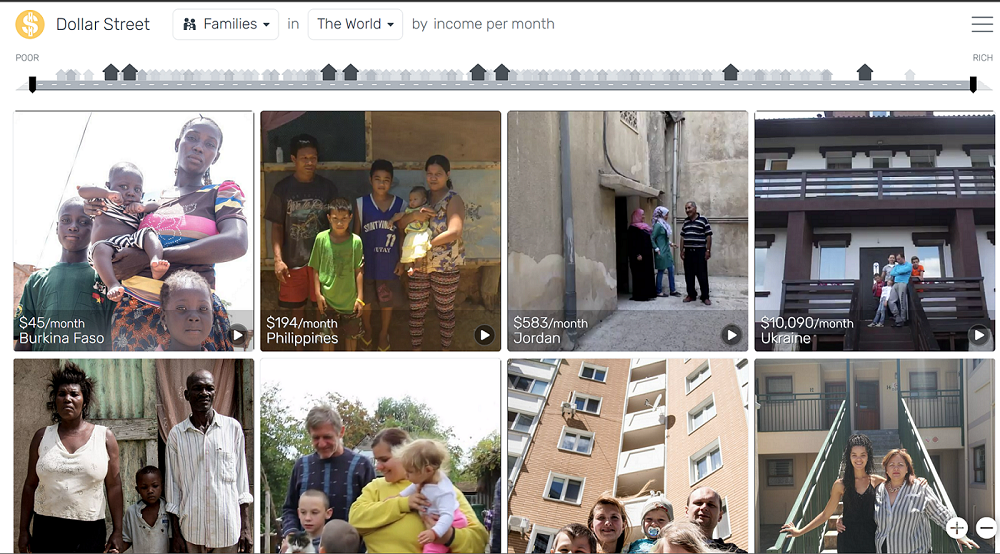 By default, you are presented with a selection of images of Families in The World. These settings can be changed by clicking the drop down menus at the top of the page. When you click on Families you will see a vast range of options…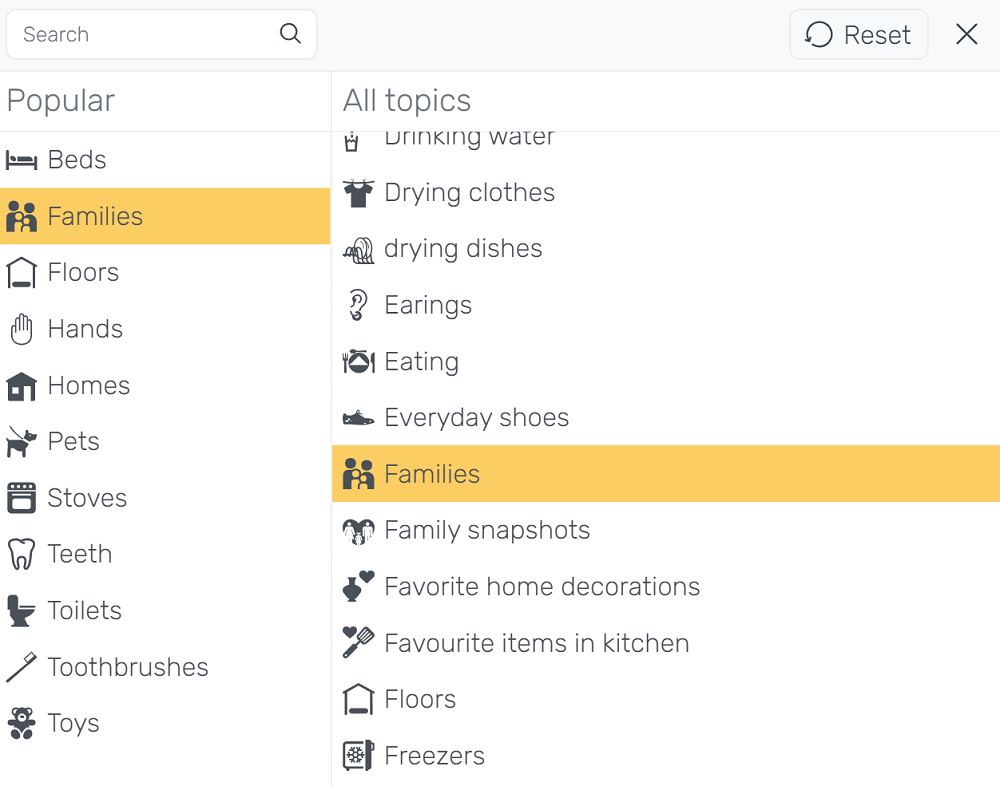 Take some time to explore what is in there (over 150 different topics) but once you have found something you want to use you can quickly navigate to that specific topic by using the Search option at the top left. In my example below, I have selected Play areas.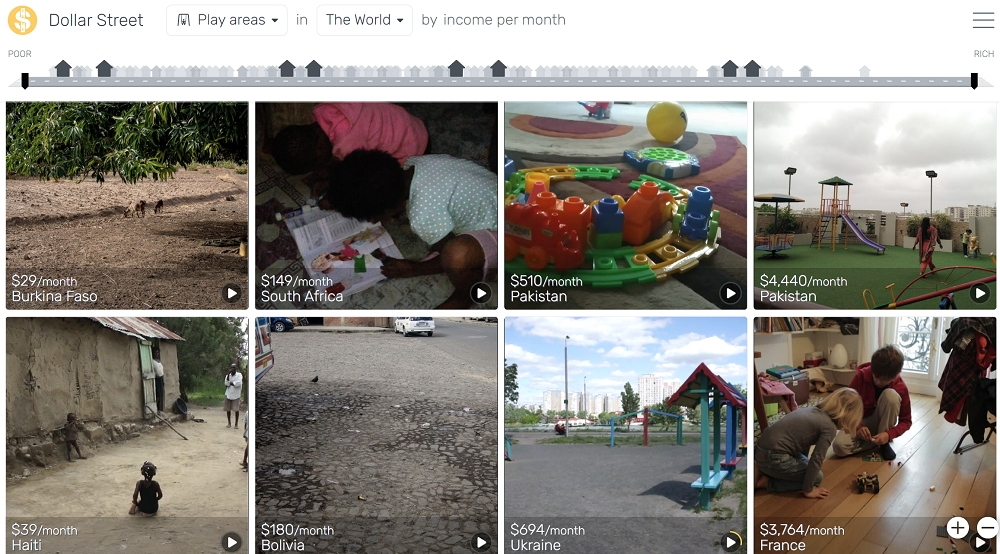 By clicking on The World you can drill down into specific countries. The menu below shows some of the available choices: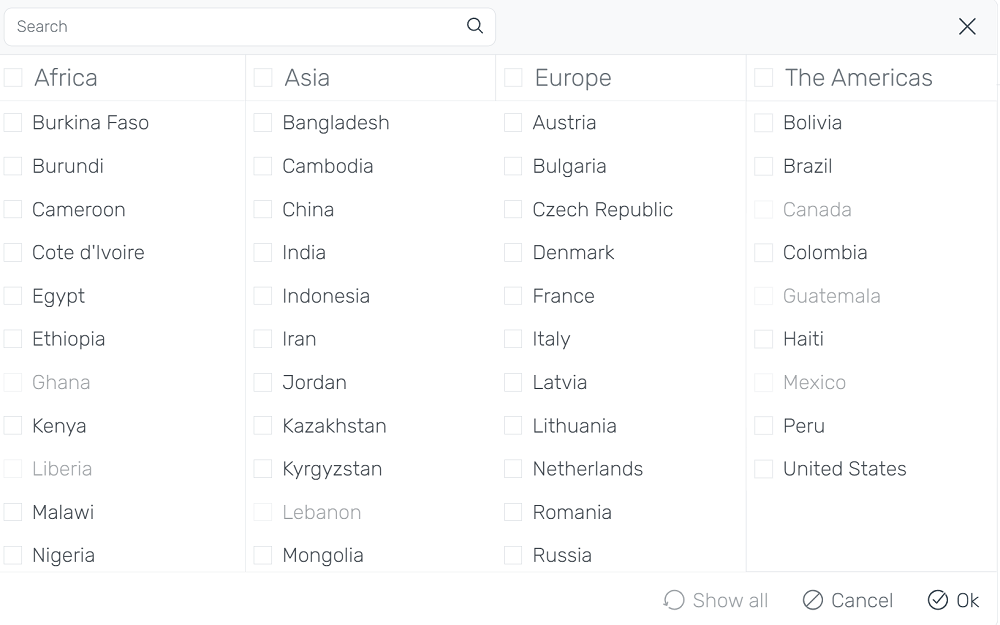 When you click on the check box to the left of the country then you filter the images so you only see those countries. In my example I selected Zimbabwe and China with the following images displayed.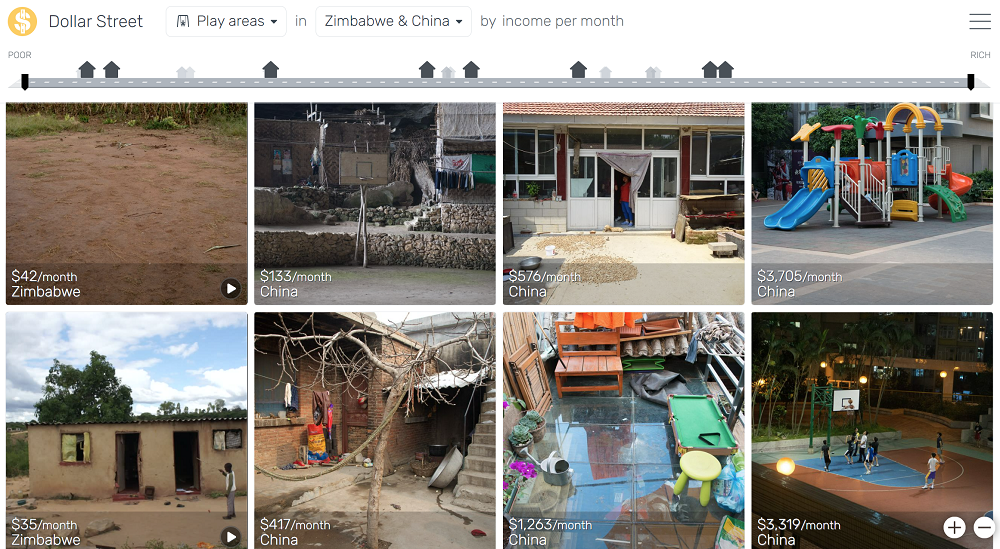 You can see that the first image has a play button so this is a video and those that don't, are pictures. By clicking on an image you get a larger display and some extra information. 
Finally, you can use the Poor or Rich sliders at the top of the page to filter to a particular income range. The representations of houses on the slider show you how many images you can expect to find in each section of Dollar Street. 
You can see that by dragging the sliders I am only left with 4 images between $120 and $700 USD household income per month and that they are all from China. 
How could I use this in the classroom? 
1. There is a ready-made lesson provided by Gapminder, which is available here – Teaching material living conditions on four income levels using paper handouts. 
2. Consider where the items in these homes are from – look for similar brands and products to those found in NZ or Australia – the work of Follow the Things may be appropriate to reference here: http://followthethings.com/ – can you see familiar products or brands; e.g. the electrical goods, book titles etc. 
3. Prepare some questions that you would like to ask some of the families about their belongings or daily lives – what mysteries are revealed by the images – do they prompt as many questions as they 'answer'? 
4. Produce a presentation with examples from 3 different income levels of areas of daily life, and add in some commentary to explain the changes (a task I used with Year 7 and 8s). It is worth reminding students that there are billionaires in India and many other countries – this is about the family income rather than the national economy. 

Discover more of the potential of Gapminder by joining our Digital Maths Accreditation Program.