There has been much talk over the last few years about the importance of developing 21st Century skills in today's students. These skills are sometimes referred to as the 4C's or sometimes the 6C's – depending on which version you are focusing on – and include :
Collaboration
Communication
Creativity
Critical thinking and
Citizenship
Character education
These 'soft skills' are now seen as equally, if not more, important than technical skills and are often quoted as necessary for students to be fully equipped for the world they are entering after they leave school.
But how often do we stop and reflect on the importance of these skills for our colleagues? If we ourselves are not modelling these skills and developing our own competencies in these areas then how can we be effective at modelling and teaching them to others?
We talk about #collaboration with Ss but do your #colleagues collaborate?
Click To Tweet
This blog is going to focus on the beginning – collaboration. (No one skill is any more important than another but the teacher in me has ordered them alphabetically – hence collaboration is at the top.)
Take a moment to reflect on what is happening in your own workplace? Are you and your workmates truly collaborative?
In order to answer this question, we need to have a shared understanding of what collaboration actually means. You can Google the word, or check the dictionary, and you'll find many definitions but all with similar wording and intent. When I put the keywords together it reads something like:
'the action of working with someone to produce something that focuses on a common goal'
The first step you would need to take with your colleagues is unpacking your own understanding of what collaboration means – ensuring that it encompasses three parts:
two or more people (team)
working together (processes)
towards shared goals (purpose)
At this stage it's really important to understand that collaboration is a human activity – it's not a tool. For example, using a Google Doc to collect resources in one place is not collaborating – that's cooperating. A tool alone does not solve poor collaboration.
Using a #digitaltool does not necessarily mean collaboration is happening!
Click To Tweet
Successful collaboration involves everyone having a cooperative spirit and mutual respect for each other. You must all be willing to balance your own personal achievements with the goals of the group. These goals need to be understood by all of the team and the vision surrounding them needs to be clearly shared by all. This will allow you all to function effectively as a team and develop efficient collaborative skills that you can then model for others.
There are of course a lot of combined skills involved in developing effective collaboration. However I really like this list as it shows the complexity of what's needed and helps unpack what the difference between collaboration and cooperation is.
Examples of Collaboration Skills
Actively listening to the concerns of team members
Agreeing on roles that capitalize on individual strengths
Analyzing problems without assigning blame
Assessing the strengths and weaknesses of partners
Brainstorming solutions to problems
Building consensus about goals and processes for group projects
Compromising when necessary to move the group forward
Defining mutually acceptable roles
Delegating tasks with open discussion
Displaying a willingness to find solutions to problems
Drawing consensus around goals and processes
Eliciting the views of reluctant group members
Facilitating group discussion
Following through with commitments in a reliable manner
Forgiving others when they come up short
Giving credit to others for contributions
Identifying obstacles to success
Investing the required time and energy to complete tasks
Taking a leadership role
Listening to the concerns of team members
Maintaining a sense of humour whenever possible
Making sure the perspective of quieter collaborators is heard
Meeting deadlines for individual contributions
Recognizing the contributions of other collaborators
Recognizing the strengths and weaknesses of collaborators
Selecting compatible partners to carry out projects
Sharing feelings of frustration or dissatisfaction as they occur
Speaking respectfully with team members
Taking responsibility for mistakes
Updating collaborators on developments with the project
Working hard to fulfil obligations to the team
So now that you've thought about what collaboration actually is, what are some of the practical ways that you can encourage your colleagues to actively develop the skills needed?
Here are three things you could consider that would help to build collaborative skills with your colleagues:
In March 2012 Micheal Rosenblum wrote in The Guardian "We are, today, a society that is defined by video. Video is the way that we, increasingly, communicate stories, news, information and even ideas to one another. It's powerful because it often transcends barriers of language and of culture. It is universal and powerful. It drives everything from politics to religion, and much in between."
That was seven years ago! There are many ways that we now use video to provide a flipped learning model or to supply another avenue for finding relevant information. But do you use video with your staff?
You may have a team of colleagues who are working together in a subject team (maybe they all teach maths) or they may be working together on raising student achievement through their similar inquiries. Have these teams of colleagues set a shared goal that they are working purposefully together to achieve?
Maybe they could collaborate together on a YouTube playlist. Many of us have our own playlists but these same playlists can also become collaborative. Colleagues could then add useful videos as they come across them, benefit from videos that their peers add to the playlist and plan together to view and reflect on shared ideas.
Did you know you can make a #youtube playlist collaborative?
Click To Tweet
To collaborate on a playlist one person would need to create it in within their own YouTube account initially. Follow the steps below to then make it collaborative:
Step one
Go to the playlist you created and click on the 'Edit' button.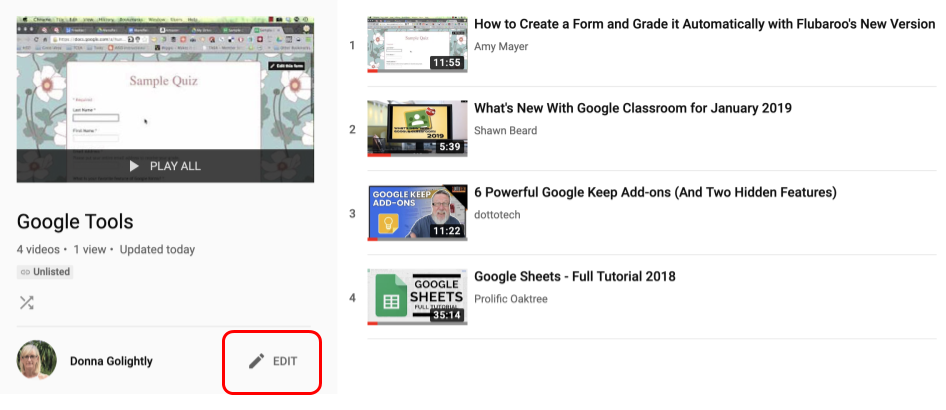 Step two
You'll notice on the right-hand side a button that says 'Playlist setting'. Click on that.

Step three
Now you'll see three options across the top – one saying 'Collaborate'. Click on this link and toggle the option on to allow others to add to this playlist also.
Share the link with others and you're all set to collaborate.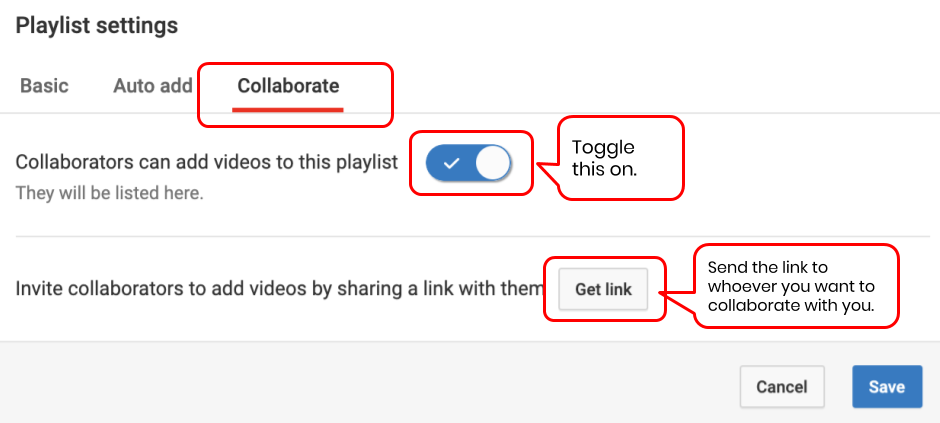 Remember – the tool does not make the collaboration. The discussion you have as a team about the content, which videos meet the intended purpose of the shared list and which don't, listening to and respecting each other's opinions as you go is what makes the collaboration.
Google Classroom is an awesome tool for organising and sharing tasks with your students – but do you use it with your staff as well?
#Google Classroom is not just for Ss - use it with your #colleagues too!
Click To Tweet
If you are wanting to collaborate as a team of colleagues what an awesome platform to do it within. You can add everyone as teachers – allowing equal opportunity to add materials, share documents, discuss the value of the readings you may be posting and interact with each other from various locations.

Use the 'Materials' and 'Assignment' options to share relevant materials, ideas, readings and resources that could be useful for your journey towards your shared goal. You can organise them in (an agreed upon) logical way by using the topic's option.

Note:
If you are a Microsoft school you could use OneNote or Teams in the same way.
Set up a staff notebook and invite the colleagues you are collaborating with to be co-owners. You can then add resources, readings, ideas and reflections in a way that everyone has access to them and everyone is working together to achieve the same set goals.
Depending on what you are collaborating about as a group, it often involves collecting resources or ideas to reflect upon.
Wakelet is a tool that allows you to curate resources all in one place. It's a little bit like Pinterest but with more options. It allows you to create various collections within the one place, tag them and either keep them private, unlisted or public.
Have you tried #wakelet yet to create #collaborative resources?!
Click To Tweet
One member in your group could create a wakelet and then you'll notice an option at the bottom to 'Manage Contributors'.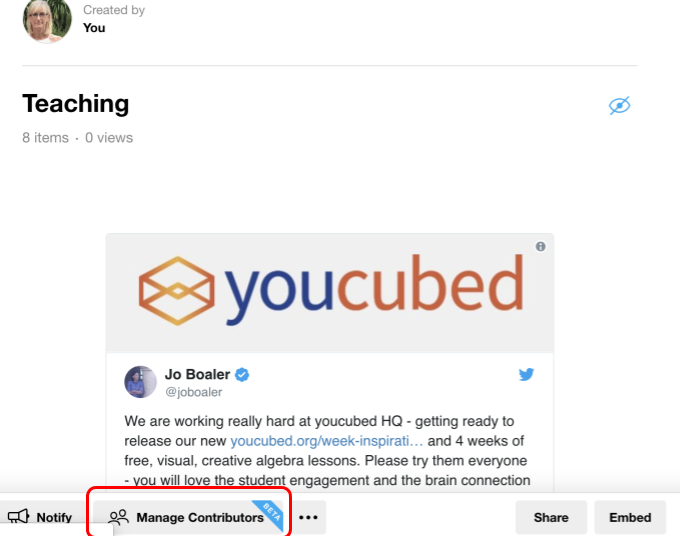 When you click on this link you can choose to invite others by email or send them a link.

Choose your options and voila – you now have a way to collectively curate useful resources. Wakelet works particularly well with Twitter and has a Chrome web extension that makes it super quick and easy to add links, videos or images to your collections.
A very recent update now allows your wakelet to be embedded directly within OneNote, so if your group is using this awesome Microsoft tool you have even more options for curating your resources. You can add notes and thoughts on the same pages and combine them with other media also – all in the one place!
As a group, you can have those robust discussions about which resources would be the better ones to help you meet your goal. You can employ a number of the skills listed above when you have these discussions. You may need to compromise, actively listen to the opinions of others, make sure all perspectives are being considered – or any of the other many meaningful skills that are necessary for effective collaboration.
There are of course many other tools you could use to facilitate effective collaboration, but these three will go a long way to getting you started.
So just how are your colleagues collaborating? How are they modelling the skills they are expecting their students to develop and master? How are your staff working together to promote effective 21st Century skills in your workplace?
Maybe it's time to reflect and make some changes in your workplace.
If you'd like to learn more about ways you could effect change within your workplace check out our Certified Leader course here where you'll find tips and principles behind facilitating effective transformation or join our online professional learning community.
---