Some of the upgrades within the release of the new iOS are so subtle you may not know they are even there. A good example is the updates to the camera, which may fly under the radar. If you are like me, you are probably taking more photos and shooting more video on your phone compared to any other device. I am continually amazed at the quality of images I can take on my iPhone. The latest updates, while not major, do bring a bit more functionality to the camera, including its own dedicated app. These functions range from providing more effects and filters, scanning a QR code easily and some great changes to live photos. While some of these improvements are designed for the iPhone 7 Plus and iPhone 8 Plus (due to the dual camera), I am sure you will find them handy.
Here are my favourite five at this time.
Image Management
The camera now has new compression methods for both video and photos. The clarity remains the same with a smaller file size. HEVC (High-Efficiency Video Coding) is now used in video. However, you need to be aware that the coding is at H.265 rather than H.264 and videos are saved as HVEC .MOV files. While this may not make a lot of sense to some of us, it does mean that you may run into issues when editing your videos on another program like Final Cut Pro X, as this compression is not yet supported.
[bctt tweet="Every now and then when using technology, you think 'How did they do that?'. I think this applies to the editing features standard on an iPhone in Live Photos." username="@adifrancis"]
There are a couple of workarounds:
Share the video via Airdrop to your Mac and it will convert it to an editable format, but this does take some time depending on the length of the video.

The easiest thing to do is to change the settings to not use HVEC. To do this, navigate to

Settings

->

Camera

->

Formats

and make sure 'High Efficiency' is not active, then it's all sorted. Once the updates come to the editing programs, you can change back to HVEC.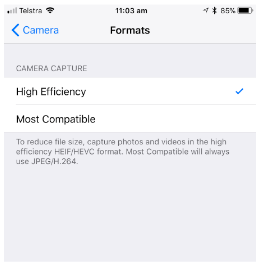 For photos HEIF (High Efficiency Image File Format) is used. It is pronounced HEEF – like in BEEF. Hopefully this pronunciation will get established early so we don't get in a pickle like when we are trying to pronounce GIF! Photos are saved as .HEIC instead of .JPG. HEIC format is supported by Photos.
QR Scanner
There is now a built in QR code scanner in the camera. No more need for third party apps. It will read a QR code as soon as it 'sees' one, either from a computer, paper, posters or other devices. It seems to work from any angle, rather than having to line up the code carefully. If you don't want this function to scan automatically, you can go to Settings -> Camera, and toggle off 'Scan QR Codes. Another good feature is that the website that the QR code is linked to will appear in a bar on top of your screen, so you can stop the website loading up if needed. This can be handy in schools, where sometimes a QR code may take our students to the wrong sites.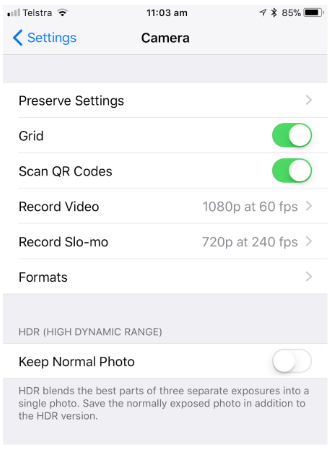 [bctt tweet="There is now a built in QR code scanner in the camera." username="@adifrancis"]
Getting a Shot Square
If you have ever tried to take an overhead shot of a document, or try to line up a shot parallel with a wall, you will know that it can be tricky to get it perfectly square. The Camera app now has a built in level to let you know when you can get the best shot. When you have the camera parallel with the document, cross hairs appear on the screen. You need to turn this on: Settings -> Camera- Grid.
Live Filters
There are many apps that seem obsessed with filters that you can apply to your shots. There are now even more filters that you can apply live to a shot. This is handy as you can see what the shot will look like before taking it and having to edit it later. This also means that you can't accidentally leave a filter on without knowing it and discovering after you have taken that perfect picture of a puppy that has an odd filter applied to it!
Live Photos
Every now and then when using technology, you think 'How did they do that?'. I think this applies to the editing features standard on an iPhone in Live Photos. If you have ever taken a shot of the family at Christmas, only to have someone have their eyes closed, you appreciate live photos and the ability to pick the best shot, rather than taking a burst of photos and having to scroll through all of them to find the best shot. The editing in Live Photos has just jumped up a level. You can trim the animation, add a loop and a bounce effect to the Live Photo and share it with others. Additionally, live exposure effects make these shots even better. I will look at all the editing features in another blog post.
You may have seen the promotion for the new Portrait effects, but these will only be available for the iPhone X. For iPhone 7 Plus users, there is new image stabilisation and the ability to use the flash in Portrait mode. For now, grab your phone, play around with the settings and be amazed at the quality of the images you can take.
[bctt tweet="There are now even more filters that you can apply live to a shot. " username="@adifrancis"]