Save time and let Google find helpful resources for you 
We all know that teachers are time poor, finding and making resources to help students understand concepts independently can be time consuming. Let Google take some of that workload and use Practice Sets to not only find the resources for you, but guide students working independently.  
Where are these Practice Sets and how can I get them? 
Practice Sets are integrated into Google Classroom. You can access Practice sets to view and create them in 2 places. In Google Classroom Home Page or when you create a new assignment.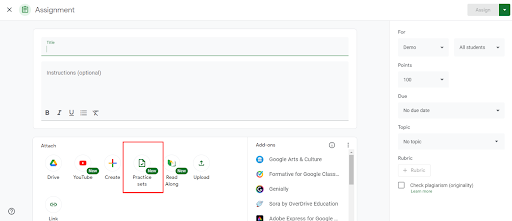 Practice Sets are part of the Teaching and Learning upgrade of Workspaces, so if you don't see it then you will need to talk to your Google Admin about upgrading.  
If you are in a New Zealand state integrated school then the upgrade is part of the MOE Software package for schools, see here. 
You can make them in the practice sets home space or when you create an assignment. 
Click Create and then name the Practice Set. Remember to be clear with your naming convention as you can reuse sets year after year and it will help to remember what each one is about.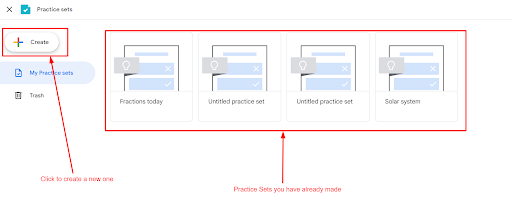 Decide on the type of question you are wanting to ask and choose from the drop-down menu. The ones that say Auto next to them can be auto-marked for you, but the paragraph option will need to be marked by yourself.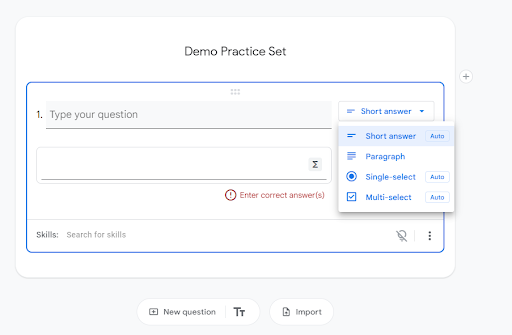 Type in your questions and add the answer/s. Don't forget to choose which Single or Multi select answers are the correct ones.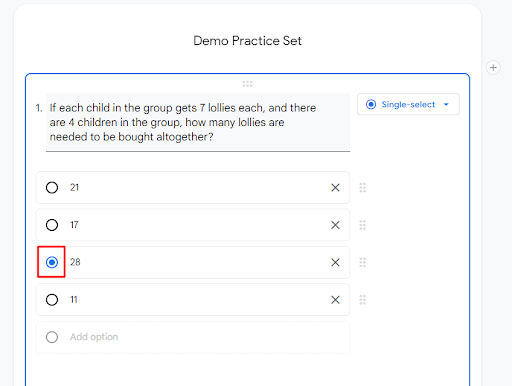 When you are happy with the Practice Set, make sure to test it my clicking Try as Student button on the top right. This will pop you into student mode and you can see the resources and how the questions look from their perspective.  
Where are the resources and can I make my own? 
As you make each question, you have the option to add a Skill to it. Adding these skills will allow Google to find the right resources – videos and images – for you. These will help the students to understand the content of the questions.

You will be given suggested skills, but you can always search for your own.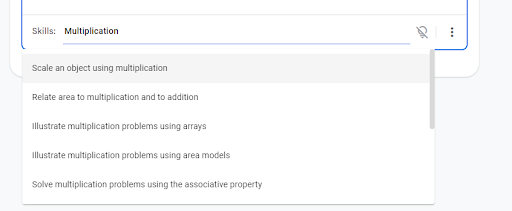 Coming soon – you will have the ability to see the resources that Google gives under each question, delete the ones you don't want, and add your own resources. Giving you more control over the hints and skills.
When students complete the Practice Set, they will be able to click the light bulb at each question you have added a skill to get the resource, and if they need more, click the Extra Help button to see the resources for all questions and more.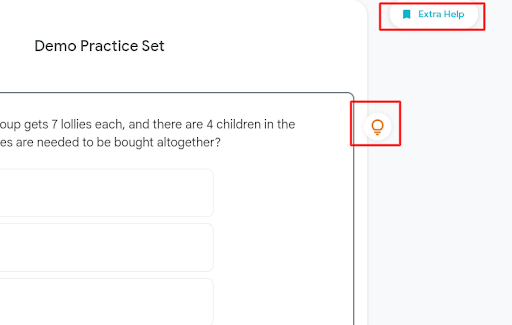 How do students complete them? 
Practice Sets are added to assignments in Google Classroom. You can add other resources to the assignment to help as well before assigning it to the students. 
Students then go into the assignment and click on the Practice Set item in the assignment to complete it. They can show their working by clicking the button to work out the answer.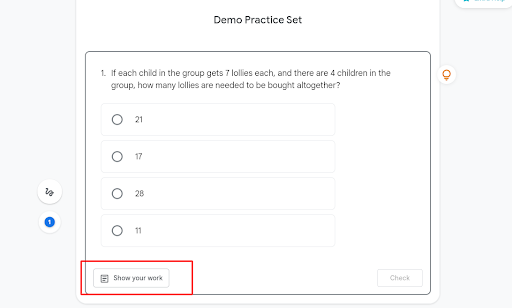 Students can write the answer and their working out by either typing it or they can use the scribble button to draw and write by hand. 
They can check each answer as they go using the inbuilt auto grading, and when they are finished, they can click the hand in button. 
What information do teachers get? 
Teachers can get Insights into the students who completed the practice set in that class by going into the assignment to mark it. They will  
be able to see each student's practice set,

 

See a break down of the questions and which students got each right or wrong,

 

and get insights from Google's AI about the students that may be struggling or those that need extra practice in a certain area.