Kick Off Monday, 22nd of June 2020
Book Creator Mini Webinar series
One of our favourite digital tools is FREE for Teachers in NSW government schools and we will show you how to make the most out of this amazing tool.
Did you know the Department of Education NSW is offering book creator premium account for FREE until the end of the year? 
Kick Off Tuesday, 21st of April 2020
join us for Google for education extravaganza 
Register now for the most engaging and interactive online conference you've experienced yet! 
We are passionate about empowering you to develop your knowledge of the Google for Education tools. We're going to support you as you prepare your students with new, more engaging ways to learn the skills they need to succeed!
Monday – Friday – 8AM AEST | 10AM NZST
PB Tech – Teacher Student Challenge – Webinar series
Are You Ready To Level Up Your Creativity Alongside Your Students?
PB Tech is partnering with Using Technology Better and Microsoft, to bring you an awesome online FREE PD opportunity – and the great thing about this event is that it's for BOTH teachers AND students!
What our clients say about us
It really gets you thinking about 'why' you do what you do. Great to have time out from the classroom to experiment and have time to think and discuss different ideas.
Abbey Howard
Highlands Intermediate
Thank you Mike! I really found the 4 week course on 'How to Motivate, Manage & Engage Your Students' really interesting and great food for thought on how to improve my class routines and student engagement. I look forward to the next sessions with the technology course.
KiKi Tsoli
Banks Town Senior College
Just replayed last week's session and enjoyed it just as much second time around. This is a great facility!
Where was this kind of training when I did my Bachelor of teaching???
Ken Sullivan
Sunning Hill School
(Juvenile Correctional Centre)
I just wanted to say an extra big thank you for providing such a great service. Online, at night and in the comfort of home – with my two young children asleep in the other room – pretty awesome actually. It was very engaging and entertaining.
Leda McFadzean
OMG!!! What a change! This class has a lot of students in it, and I find the room very small for all the different personalities. But after I set the picture, the students were working with me instead of against me.
Vicki Nation
Chair Mathematics Faculty
Billanook College
I have been teaching for four years, and this was the best Professional Development course I have completed…even the students said to me "you should do these things more often.
Ailie Granger
Griffith High School
Mike, awesome course, fantastic resources and a real wake-up for someone who considers himself technically astute but not necessarily updated!
Shaun Hardy
Technological and Applied Studies Teacher
Coffs harbour High School
Today was amazing. By far the best PD I have done in my 5 years of Teaching.
Josh Harding
Head of IT – Cobham Intermediate School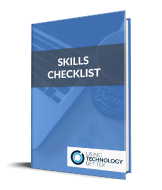 Are you a beginner, intermediate or advanced G Suite or Office 365 user? Our skills checklist will help you find out.