Without careful consideration tailoring learning for every single one of your students could land you in one huge mess! Multiple submissions in countless formats, submitted by hand, digitally, by fax . . . overwhelming for sure!
While the idea of designing tailor made learning for your students may seem like a daunting task, the effort is well worth it. Trust us! 
Here's what we'll cover to inspire and assist with designing an awesome tailor made learning experience for your students:
Tailor Made Learning Defined

Regain Control of Student Work (and Your Sanity!) with a Central File Hub

Your Digital Toolkit Defined




Quick, Clear, Meaningful Feedback
Tailor Made Learning Defined
A tailored approach to learning must be built on established relationships and connections for it to be truly transformative. Real transformation is built on a foundation of shared understanding, responsibility, and ownership.  Empowering students to make choices about what and how they learn and communicate, fosters self-belief, motivation, and success for our young people.  Variables that make the learning tailored may include:
Different goals for different students 

Different resources and delivery based on learner needs, preferences, and differing goals

Different and flexible ways to assess and inform teaching

Different pace of learning and expectation around meeting goals

Different contexts for learning 

Different tools used by students to achieve success towards their goals
Regain Control of Student Work (and Your Sanity!) with a Central File Hub
Kiss goodbye to the chaos in your inbox and regain your sanity!
A common question I get asked time and again is:

"How on earth do I manage the myriad of files and pieces of learning when all my students are working individually and in such diverse ways?" Whenever a teacher tells me their students email them with completed learning, a little piece of my heart breaks. Especially when I know the solution is so simple! If a secondary school teacher has five classes of 28 students, this means they could potentially receive 125 emails for each student who's submitting one piece of work. And I can almost guarantee some of those students send more than one email. That's a lot of emails!  On top of that, It's highly likely some of those files haven't been shared with you to enable access in order for you to give feedback efficiently. And you're probably getting asked the same question by several different students that you're answering individually.  It's no wonder you feel overwhelmed! But there IS a better way. Let's do a deep dive into how to regain control of your inbox and your sanity!
One Place To Rule Them All
Choose one of the many tools available to use as a central hub for all your files, (to and from your students) such as: 
Google Classroom

OneNote Class Notebooks

Microsoft Teams

Flipgrid
With a simple setup, any one of the tools above can be used as the central hub for resource sharing. If you're able to get your whole school or even just one department on board to use the same place as a central hub – and teachers, students, and caregivers are trained how to use it – then even better. How to Train Teachers, Students & Families to Use One Central Resource Hub
Screen recordings are a super helpful way to take people through new processes with step-by-step instructions. Check out this great screen recording blog post with a step-by-step guide.

Text guides with screenshots located in a central place for newcomers or anyone who needs a refresher. 
Helpful Hint: this will take some getting used to if you've never established expectations around this before. Be firm and supportive for as long as it takes for everyone to get on board. 
Keep it simple, keep it clear! Clarity and consistency are key.  Eventually, this new process will become the status quo. This may adjust and change over time, but with consistent practices, these changes should be small and easy to implement. 
Central Hub Examples:  Google Classroom – all teachers in the school share resources, assignments, and work-related conversations through Classroom. Students can see each other's questions and learn from each other. Teachers and students all have a clear understanding of how to share multiple types of resources with each other. ALL related files should be attached to the assignment they are connected to. Teachers complete marking and feedback through Google Classroom.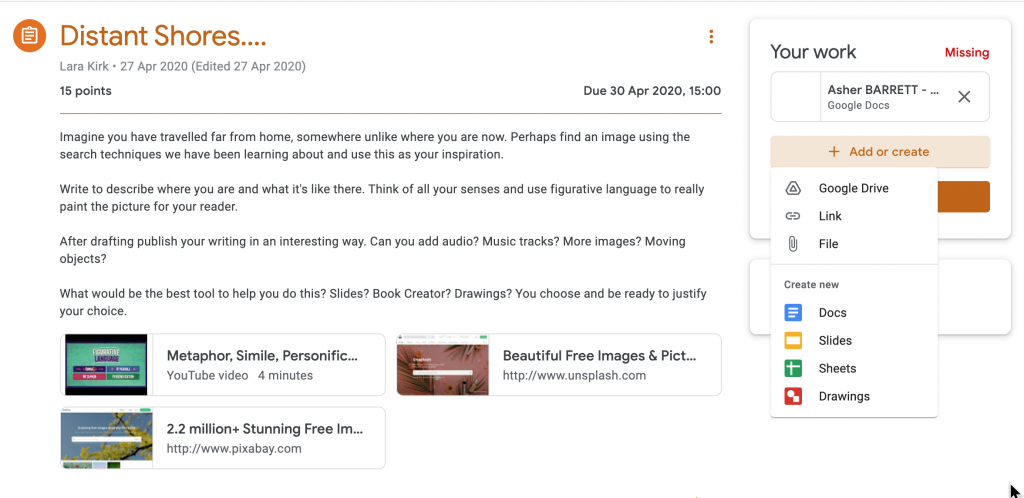 Teams/OneNote – same as above with Google Classroom. Teachers understand how to distribute resources through Class Notebook or Teams, and students know how to submit learning from various places. 

Forms (Google and Microsoft) – Students submit URLs to a folder of their learning through a form. This then generates a spreadsheet with all the links for the teachers. 

Flipgrid – Students record a reflection about their learning and add a link to their response so the teacher can access and provide feedback within Flipgrid. 

Non-Digital Work

– Even if work is not digital it may still be appropriate to submit it digitally in the form of a photograph of a drawing or poster, etc. These can be loaded into Google Drive or OneDrive, with the link shared in the same way as any other file.
Your Digital Toolkit Defined
With the thousands of digital tools available to students, it pays to keep it simple when it comes to guiding your students on which ones to choose.
Unless you're a super passionate, fully geeked-out tech educator then it would be a terrifying and overwhelming task to stay on top of all the new and awesome tools available all while meeting your curriculum needs and staying sane! A little unsolicited advice here: don't even try!
Stay tethered to your sanity by finding a few tools you believe will help your students get the most out of their learning and get to know them well. Ensure the same for your students; they know a couple of tools that serve them well and can use these to communicate their learning. Those who are passionate and interested will find others and play around with them, (with the support of YouTube) until they master them. When you see something you think is worthy of adding to your toolkit ask them to show you, or just point you in the right direction. Remember, it's not about the tool, it's about the learning. There's nothing wrong with paper and pen if they get the job done!
Some of my all-time favourite tools to equip students with include:
Flipgrid – amazing for reflection, Flipgrid has great tools built in like screen recording, and annotating with pen tool and linking to other places. 

Book Creator – simple, effective eBook creation. Uses the power of Google Image search within it, automatically filtering for images they can use. 

Online Voice Recorder – quickly capture an audio recording, download, and upload to your Google Drive, and share the link in the relevant place.

Soundtrap – create audio recordings, podcasts, music, and more

iMovie – so easy to create movies (especially on iPad) – the trailer feature is really great and it's simple to use a green screen to get really creative. Helpful Hint: check out the Apple Teacher Learning Centre for great ideas, and it's free!

OneNote – so flexible with an abundance of built-in tools
Quick, Clear & Meaningful Feedback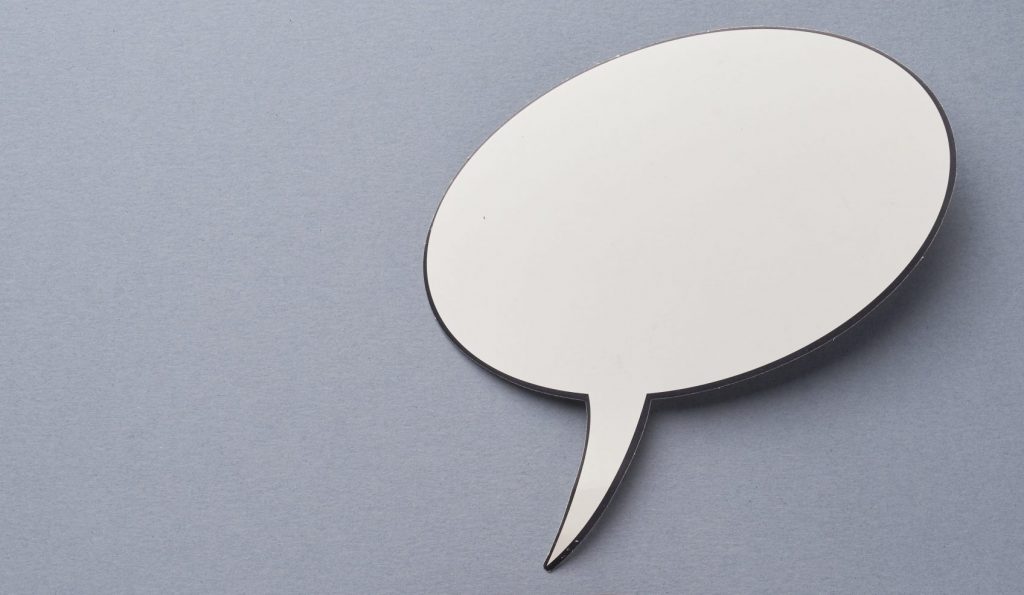 Feedback Tools
In a true learning partnership feedback needs to be quick, clear, and meaningful. 

Two things to consider when choosing a feedback tool: 1) Creating a simple workflow with your students, and 2) Providing feedback that's quick, clear, and meaningful.
Automated Feedback
There are some great tools that automate simple feedback and other tools that make it simple to create more detailed feedback. The more meaningful and instant the feedback is, the better equipped our learners are to take responsibility for their learning.

Conversations and Chats 
If you're using Google Classroom or Microsoft Teams show your students where they can publicly chat about assignments. They may have the same questions or concerns as someone else and posting their comments in one place means they may even be able to answer each other's questions.
Rubrics 
Rubric creation is built into Google Classroom, Class Teams, Flipgrid and much more. Rubrics, especially when co-constructed with your students, provide clear guidance and expectations for everyone. Creating them in the place where all the resources will maintain the – 'One place to rule them all' guideline from earlier in this post. 

Instant Feedback – Self-marking quizzes in Forms, Kahoot, or anywhere else provide students with real-time feedback to help guide their learning. EdPuzzle is a great tool for video, you can add your own questions, notes, etc to any video and students can see if their answers are correct to multiple choice questions. 
Flipgrid – record or type your feedback to your students. If your settings mean that all students can see each other's – they can also provide feedback to each other.
No more emails from students that relate to classwork! 
Get your colleagues on board and share the workload of training your students (and each other). The flow of communication in a school can be relentless, so save yourself time and energy by creating good systems.
Cheerleader Booster → As with most new habits, it takes time to establish new routines and practices, but it is so worth it!
Check out the April 2021 edition of the UTB show (coming soon!) where we look at other aspects of Tailor Made Learning.
Keen to up skill with Google Classroom or Microsoft Teams? Check out our awesome courses in our Learn on Demand platform.