Midjourney 5 – In the classroom
Midjourney 5 is the latest in AI image generation, and if you haven't played around with it or seen it, it is truly incredible. In today's blog, I want to explore ways in which we could potentially use this extraordinary tool in the classroom. Like some other forms of artificial intelligence, it has the potential to be an absolute game-changer. No longer do you need to be a talented artist to create truly breathtaking images. If you can imagine it and write it, you can bring it to life.

In my opinion the only downside to Midjourney 5 is that it only operates inside of Discord. Discord is currently blocked in some schools.  However, I understand that will be changing when they bring out Midjourney 6 later in 2023 where it will have it's own standalone app.

How would this look in the clasroom
However, before we get into this, I want you to keep in mind that this is just a tool and you need to have an authentic purpose. Otherwise, it is very easy to fall down the rabbit hole of creating images for the sake of creating images. I may be speaking from experience here.

Who's line is it anyway

One of a teacher's favourite writing tools is Pobble 365 with their beautiful and creative images to inspire your writers.. With Mid journey you can take prompts from children to create your very own surreal images for them to write about. What better way to give students agency of their own writing, than by collectively creating that inspirational image? 
Here's an example I tried with a class. 
Name an animal = Walrus. 
Name a location = The beach
Name an activity = Sitting in a chair eating a burger.
Once the image has been rendered (about 60 seconds), it's time for the students to write their narrative.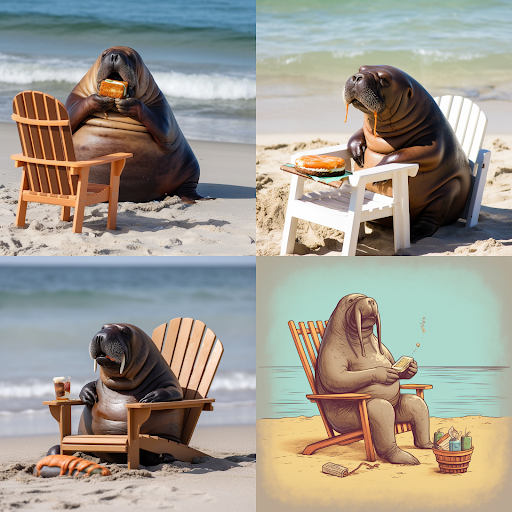 Interesting Banners for Classroom and Google Sites
Sometimes finding free images for banners can be time consuming and a little bit daunting,  even though  there are options built into some of the  the programs, however, we might want something a little bit more unique and in this case Midjourney 5 is your solution. In this next example, I was looking for a banner for my Matariki Google Classroom. "background that has a star or Matariki image with Maori influence –ar 1600:400" That last part (–ar 1600:400) is the aspect ratio that I've changed to get the right size. Mid Journey will generate 4 options and can choose the one we like the best.

Stock images
Do you get frustrated when you find the perfect image online, but when you go to download it, you realise it has shutter stock or copyright plastered over the image. Grrrr! 

Last week I needed an image of a robot for a presentation I was doing on computational thinking. Online a found a few images, but the very very basic clipart and didn't fit with the theme of my slide. This is what I got from Midjourney 5.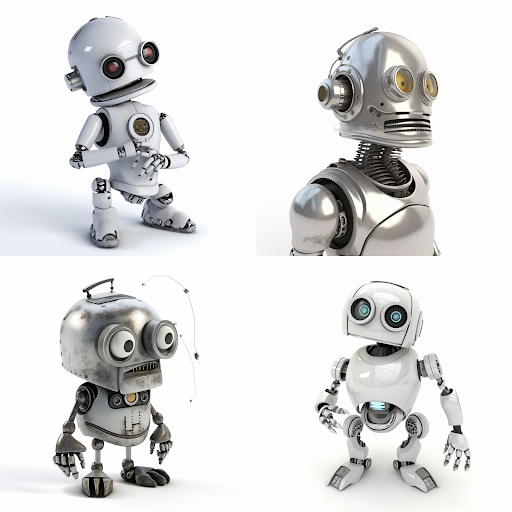 I will reiterate one more time: Mid Journey is a very powerful AI tool that can save you time and money. Just be aware of the rabbit hole and really work on forming the perfect prompt to get the image you're looking for. To master the art of writing that perfect prompt, tap into our free 'Halve your teaching workload with AI', or even our online course 'Improve efficiencies and hack your teacher planning with ChatGPT' . You can check out all our offereings here. Live Online Courses – Using Technology Better
And just for fun here is Auckland cityscape in the style of Van Gogh.