**UPDATE: This feature is no longer available in the updated Google Calendar interface (released late 2017)**
The Automatically declining events Google Calendar lab gives you the ability to automatically decline calendar invitations during specific time periods. This is great for those times when you will definitely not be attending meetings (think annual leave or professional development).
This lab works its magic by giving you an additional availability option when creating an event , called Busy (decline invitations). To put it to use, just create an event in your calendar to block out the time you're unavailable, and select this new option. Here's how to do it step-by-step:
To enable Automatically declining events
1. Click the Settings cog > Settings.
2. Select the Labs tab.
3. Find and enable the Automatically declining events lab.

4. Click Save.
To use Automatically declining events
1.Create a new calendar event at the time you are unavailable.
2. At the bottom of the event, select the Busy (decline invitations) option.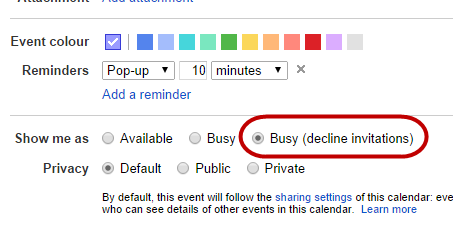 3. Save the event.
Any calendar invitations for events during this time slot will now be declined automatically.
---