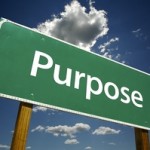 In the last couple of posts we have looked at the first two foundational principles of student motivation and student engagement; Autonomy and Mastery.
Today we will look at the third foundation which is PURPOSE.Purpose can be defined as the yearning to do something in the context of something larger than us.
Every teacher regardless of where they teach has been asked at least once in their life the all important question…"When am I ever going to use this in life?" Now as a teacher you might be annoyed that someone would ask you such a question about the subject which you are obviously passionate about, but nether the less it is actually a great question.
We all want to know why we are doing something.  Most of us hate to waste time – especially me (I am one of the most impatient people on the planet!), and all of want to know that at the end of the day that what we are giving our time and attention to will have some benefit to me – and hopefully others.  Students are no different.  They are constantly tuned into W.I.I FM (What's In It For Me).
Let's be honest for a minute.  Not everything we teach has some intrinsic value in life or can be applied by every student in the future.  That being said as a teacher is so easy to cater to a student's desire to have a higher purpose attached to what they are doing.  Here is how I do this in my classroom.
[Read more…] about The Three Foundational Principles of Student Engagement and Student Motivation Pt3