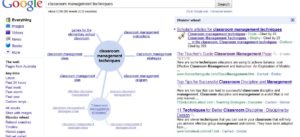 If you didn't have a chance to use Google Wonderwheel with your students you missed out.  Google Wonderwheel was an amazing tool to help your students find related searches to their key term.  The quality that made Google Wonderwheel stand out from Google Related Search was the way the information was presented.
To the amazement of a number of teachers Google Wonderwheel disappeared from the search tools about a week ago.  There has been a fair level of outcry and we are hoping that Google bring back this feature by popular demand.
But what can you use in the mean time? 
You have 2 main options.
You can use related search function found under the tools section on the left hand side of the page.  This is still a great tool for your students.  The only thing that related search is missing when compared to wonderwheel is the way in which the related searches are presented.
Your second option is to use Google Squared. Google squared allows you to search for a term, but it takes your search term and rather than presenting the results in the usual linear text way it takes the information and sorts the data into a spreadsheet format.  See example below for the search term planets.
One of the great features about Google Squared is that you can instantly see the search results rather than having to click on links to see if information is relevant.  You can also easily add columns and add search parameters to your square.
Whilst Google Squared doesn't give you related searches it does provide information in a way that students find engaging and easy to understand.
Let me know how it goes with your students.