Two great resource websites for teachers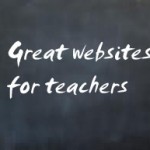 If you are like me you love getting your hands on free teaching resources.  There is no shortage of websites out there; the problem is that it can take a lot of your time sifting through lots of useless ones to find the one that will really help.   This morning I came across two websites which I thought were great for two different reasons.
The first site is:
Sites For Teachers. What I like about this site is that each site is ranked in order of popularity.  This is great as you instantly get to see what are the top sites teachers are going to which in theory should save you time sifting through the hundreds of average ones to find a good one.
The second site is:
Teach By Magic. This is a fantastic site to learn simple magic tricks that can engage your students and have them intrigued in your lesson.  I went to the site and clicked on videos on the top menu and it gives you a list of videos and shows you both how to present it and also how to perform it.  Just brilliant.  This is a sure fire way to make your maths and science lessons much more engaging!
Let me know how you use them or leave a comment with some other resources you love.