There is a lot of talk about the future of education and what the classroom of the future might look like.
Here are two different ideas of what the classroom of the future might look like.
The first classroom of the future is in Sweden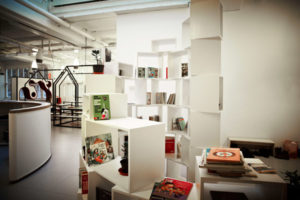 Sweden is often seen as the thought leader when it comes to education.  Last week I came across an article about Vittra school.  Vittra School has a philosophy of real life learning in creative learning spaces.  The above photo is one of their library bookshelves.
Some of the other learning spaces include the conversation wall.
The Cave
The chalk house
 There other learning spaces such as the campfire, watering hole and so on.
I have a friend who sends his daughter to one of these schools and he says that their focus is on collaboration, real life problem solving and autonomy.  The philosophy of education isn't necessarily driven by technology but they certainly embrace new technology within their school.
The second model of the classroom of the future is very technology focussed.
I came across the following YouTube video.  When you watch it you will notice the difference.  In the Swedish model the focus is very much on the student, whereas the second model of the classroom of the future is still focussed on the teacher.
In the video below the students still sit in rows and pay attention to the front of the class.  There is some collaboration around the technology but you get the impression that the teacher still controls the learning.
How would you design the classroom of the future?
I would love to see a hybrid of the two.  I love the role that technology plays but I prefer to encourage the students to own their own learning.  If you can embrace the power of new technology such as the soon to be released Google glasses with the school design of Vittra you would have a real winner!