Staff Development Day Realisations – Teachers Want More Not Less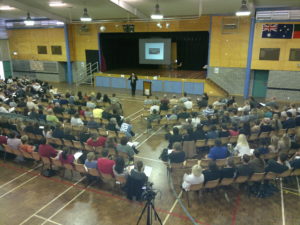 I had the opportunity to speak at a combined schools staff development day on Wednesday.  I spent 2 sessions speaking about how to motivate students and increase student engagement in the classroom.  The last session after lunch was spent on looking at technology in the classroom and how we can use technology as a tool to engage and motivate the students.  In particular we looked at the role that Google apps can play in education.
At the end of the day after taking questions and speaking with a number of teachers after the event I realised two things:
1.  That teachers are becoming increasingly aware that technology is not a silver bullet.
The idea of 'just give the students laptops and they will become engaged' has well and truly worn off (in fact we are a quarter of the way through the year and our school hasn't received any laptops yet).  We need to first have sound teaching practices in place because technology doesn't make up for bad teaching!
2.  That teachers as a general population aren't as 'over technology' as everyone thinks they are.
What teachers are over is poorly planned, adhoc solutions to technology in the classroom.  Teachers are tired of being shown one program, spending what little time they have becoming familiar with it only to be told it is being replaced by something new.
In my own school today we had exactly the same conversation that I had with the teachers in Jervis Bay.  At the school where I teach we are now three revisions into our white board software – each one substantially different to the previous.  We kind of had a go at Moodle – but no one used it, so we might have a go at Edmodo – but most won't get on board because they see it as just another 'Moodle experiment'.
What's the solution?
I think you need to have a school-wide approach to technology in the classroom.  Have a three year plan on what programs you will use and how you will implement the programs and train your staff.
Most importantly…when you have made a decision stick with it!  This way teachers will be more likely to adopt the technology, get some runs on the board and be much more willing to try something new down the track.
I'm looking forward to testing out my theory in a number of schools this year.  If you would like some help designing and implementing a plan for your school let me know.