Leading a Digital School Conference Reflections
Last week I attended the Leading a Digital School Conference.  There was a great range of teachers from every state in Australia as well as a few international teachers present.
I didn't have as much opportunity to sit in on other presenters sessions this time as I was pretty much booked out consulting with schools on how their schools can Go Google.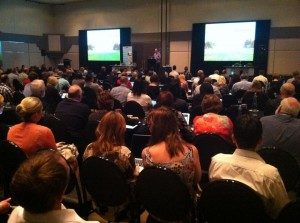 From the sessions I did manage to catch, here is what I learnt:
 1.  We have reached a tipping point where schools no longer need to teach technology to their students
The presenter was of the opinion that we don't need to teach technology to students because they already start school knowing how to use an iPad.
Whilst I see his point, I don't think we are there yet.  There seems to be plenty of scope to teach students about digital citizenship, and other tools other than the social media and basic apps they use.  Just because students attend a digital school doesn't mean they know how to use the technology to benefit their learning.
I think that whilst we are able to teach more easily with technology, we still need to teach how to use it.
2.  The percentage of the population going on to complete high school is shrinking
I am not sure why this is…disengaged students, not valuing education, increased job opportunities that don't require the students to finish school could be just a few of the reasons.
There is some evidence that suggests that giving students access to technology or attending a digital school improves retention rates.
I haven't seen the research so am not sure how robust the findings are.
3.  The four skills a digital school can impart to their students:
Communication
Collaboration
Critical thinking
The ability to analyse information quickly
The way we communicate now has changed.  Collaboration is driving a lot of this change.  We no longer need to have face to face meetings in order to collaborate.
We are starting to see a value shift from rote memorisation to the ability to analyse information.  The students are now asking, 'Why would we need to remember information when we have Google in our pocket?'
The need to analyse information quickly is becoming increasingly needed.  72 hours of YouTube video's are uploaded every minute.  There is no way to keep up with the production of information.
4.  Interesting fact #1:
In 1980 1 Gig of information cost about $200 000.
5.  We are now starting to see the web as a learning platform.
With the increase of web based programs and documents people are now starting to see the web as a place where learning takes place not just where information is stored. The digital school is beginning to rely heavily on web based applications such as Google Docs and other online learning systems.
6.  Interesting fact #2
In developed countries, on average, 98% of high income families have access to the internet at home.  Amongst low income families, 48% have access to internet at home.
This sounds like a big difference but it does demonstrate the way in which the internet is becoming widely available even amongst the most poor of society.  One of the most frequent questions I am asked in relation to a digital school is, "How do the students who don't have access to the internet at home participate?"  This is quickly becoming an obsolete concern.
7.  Interesting quote:
Learning is not a product of schooling, but a lifelong attempt to acquire it