Is Google The Answer To Your Technology Woes In The Classroom?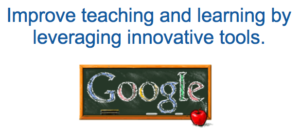 Last week I had the pleasure of attending the Google Teacher Academy (GTA) in Sydney.  There were 55 teachers from around the globe who were selected to attend the 2 day conference that demonstrated (at break neck speed I might add) a number of the Google apps and their application in the classroom.
Here is a map of where the participants came from:
One of the greatest frustrations for me at my school is that there is no co-ordinated approach to I.T in the classroom.  The main reason is that each teacher has gone and sourced different programs that allow them to achieve certain outcomes.  For example:
We have some teachers using Moodle and others using Edmodo.  Some teachers are using Microsoft products such as PowerPoint others are using programs such as Prezi.  To allow students to collaborate we are using a combination of one note and wecollaborize.com.  I personally have a membership in over 30 different sites all specifically targeted to students and teaching and learning.
This results in a number of problems:
Multiple usernames and passwords
Trying to remember the way each program works
Your work is saved on multiple platforms and not easily assembled into a portfolio – way too much of my time is spent remembering where I saved work and student samples.  To get around this problem i signed up to another program called dropbox (which was then blocked by the New South Wales Department of Education [NSW DET]  – so the students can't access it!)
The students are forced to use the programs that the teacher likes – this changes from class to class
Students are frustrated because they can't master one program and use that
So here's what I realised whilst at the GTA. Google is the answer to my technology woes in the classroom.
Here's why:
Google apps allows me to achieve the same outcomes as all the other programs combined
You have one username and password for all applications
You basically follow the same 'user logic' for each program.  By this I mean if you can work a spread sheet you can work a doc or presentation
You have all you work saved in one place
I no longer need to be the administrator to student accounts spread out all over the net!
All your students work is visible to you – no more trying to see what they are hiding on their computer screen!
All programs are allowed by the NSW DET (and I would bet the school district that you work in)
All the students work can easily be incorporated into a student portfolio and taken with them from year to year or even school to school.
And the icing on the cake…it's all free to teachers and schools
So with all that in mind, I would encourage you to look into how you can use Google apps in your classroom and ideally across your school.
If you would like advice and training about how to do this effectively contact me through the work with me page