Instagrok – An Interesting (re)search Engine For Students
Take a look at this interesting (re)search engine for students.
Last week I showed you three safe search engines for young students.  Today I want to show you a research engine (not strictly a search engine) that might be good for your students called Instagrok.
Up until about a year ago Google had a tool called wonderwheel where students could see the search results in a diagram rather than just text (see below)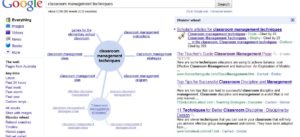 Since then I have looked at Wikkisummarizer which is a tool that is connected to the Wikipedia website.  Wikisummarizer collects all the information found on Wikipedia and summarises it into either text or a mind map. (See below).  Some teachers have issues with the reliability of Wikipedia, which probably needs to be another discussion for another day, so some didn't like this as a solution.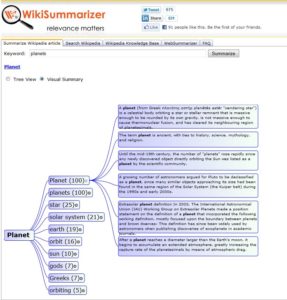 This week one of the owners of Instagrok contacted me and let me know about their research engine for students.  Normally when someone contacts me, their product isn't worth mentioning but Instagrok has caught my attention.
Instagrok has some good features and a few things to be aware of:
Good features:
1.  I like how Instagrok presents the concepts of related material.
The animation is engaging and I can see students exploring the content which would allow them to see information that they might not have seen otherwise.
2.  When you click on one of the related words another set of related options are built.
This is great for reducing the random approach to searching most students and teachers have.
3.  On the right of the screen the information is categorised into key facts, websites, video's etc.
I like how the information is segmented into these categories which helps students find exactly what they are looking for.
4.  There is a journal for them to collect their information
This could be a handy feature; but I didn't check to see if you could download your notes or export them.
Features to be aware of:
1.  There seems to be no filtering on the information.
As always, I typed the word 'thong' into Instagrok and had some fairly explicit results come back (see below).  I couldn't see where you could set filtering options.  I didn't create an account, so maybe this option become available when you have signed in.
2.  There is some advertising present
This is not a huge problem as I imagine that Instagrok will be mainly used by older students.  The advertising wasn't relevant to the search term which was a bonus.
3.  The search results aren't always educational
When using most search engines you will get mixed results.  I guess I was expecting some more filtering or an algorithm that would have favoured educational sites; but this doesn't seem to be the case.
All in all I think this is something that teachers would find useful.  Instagrok certainly won't replace Google as a search engine, but might be a good additional tool for your students.  You will still need to use a good search strategy to find the most relevant information.
If you would like to take a look at some of the feature, the following link will take you straight to the Instagrok feature brochure – http://www.instagrok.com/brochure.pdf