Update: Since Writing this article I have started a

Google Apps Blog

that goes into detail about how you can use Google in the classroom.  If you would like more tips like this one, check out the link above.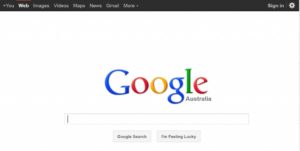 If your students are anything like mine, their internet search strategy goes something like this:
Type in a term that is somehow related to the topic
Scan the first 3 or 4 results (not pages – just results) then either…
Delete the search term and try another term somehow related to the topic or click on a link, stare blankly at it, then delete the search term and try again
Sound familiar?
Over the next series of posts I will show you step by step how to conduct a Google search in a way that eliminates the hit and miss approach that most students (and if we are honest – teachers) take.
But before we get started there is something you need to understand and something you need to do.
Firstly, you need to understand that when two people search Google they won't necessarily get the same results! In fact you and I could type in EXACTLY the same search term and not have any of the same results appear.  I have written previously about the reasons for this and the implications in the classroom – take the two minutes to read the post and understand the implications of having a classroom of students searching Google expecting to find the same answers.  If you want you can get all technical and get your students to clear the cache and browsing history on their computers etc before you start but I find this robs me of my momentum right from the start and you end up with students all over the place.
Secondly, there is one thing you need to do every time you go to search Google and that is to ensure that your search settings haven't changed.  To do this have your students click on the picture of the cog at the top right hands side of the screen (see below)
Once you have done that you need to make sure that the search settings are set to strict (see below).  I always do this despite my schools filtering system.  It is just another way that you avoid inappropriate interruptions to your lesson.
Once you have taken care of these two issues you are ready to teach your students how to search Google and get the results that are appropriate to their ability every time.
If you are looking for a resource that you will use time and time again in the classroom, take a look at the teacher's guide to searching Google HERE