Australian Schools Falling Behind
On Friday last week the Grattan institute released a research paper titled catching up.  It's a report that outlines how Australian schools are falling behind Asian schools despite a 44% increase in educational funding in the last decade.  The researchers found that Australian students are at least two years behind our Asian neighbours.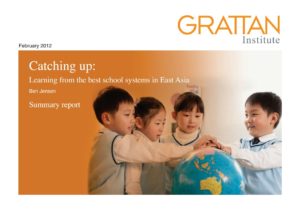 As a professional development provider who up until the end of last year was teaching full time in the classroom, there were two points that really stood out to me:
The first area that stood out in the report was that the researchers found that one of the reasons for the Australian schools falling behind is that the 44% increase in educational spending has been misspent on things such as buildings and laptops which has done nothing to improve the teachers ability to teach – something that every teacher will be more than happy to confirm (you can read about my opinion about just one aspect of this misplaced funding HERE).
Now I must say that I understand the pressure that principals are under with limited finance for professional development.  I also understand that teachers do not value staff development days, after all nine times out of ten the training is either poorly delivered or completely irrelevant (and sometimes both).  But nevertheless something definitely needs to change in this area.
"At Teachers Training we are doing what we can to reduce the financial burden on schools but at the same time deliver training that makes a difference"
The second area of interest in the report was that there was not enough collaboration between teachers.  About a week ago I sent the following tweet "If collaboration were a stock I'd buy some. It's going to be the next wave to hit education."
I wasn't trying to be clever; I truly believe this to be the case.  The funny thing about the lack of collaboration in our schools is that it doesn't need to be the case!  Google have a range of tools that have been made free to educators that provide the capability to do real time collaboration as well as greatly reduce the schools I.T expenditure.
One of the main reasons that Teachers Training exists is because as teachers we could see the need to provide training to teachers that was both relevant and relatable.  Our motto providing professional development in a way that is enjoyed not endured is not just some catchy phrase but a deep conviction and commitment to making a difference in the educational world.
At Teachers Training we are doing what we can to reduce the financial burden on schools but at the same time deliver training that makes a difference:
Next week we will be launching our online training – we have spent a lot of time and energy making sure that the online training doesn't lose any of the interactivity and collaboration that our live seminars have.  It has been hard to find software that will enable this to happen but I think we have got it right.
The second initiative that we are quite excited about is the launch of a new service where we help schools get set up for Google Apps so they can tap into the free tools that Google have designed to help with real time collaboration and document creation.  This new service will provide both support and training to teachers enabling some schools to save tens of thousands of dollars AND at the same time increase student outcomes.
This whole service has been designed with the teacher in mind so that the technology serves the teacher not the teacher serves the technology!
If you would like any more information about these two new services please simply fill out the contact form below and we will be in touch.
[contactbuddy]