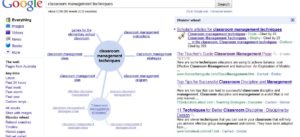 If you didn't have a chance to use Google Wonderwheel with your students you missed out.  Google Wonderwheel was an amazing tool to help your students find related searches to their key term.  The quality that made Google Wonderwheel stand out from Google Related Search was the way the information was presented.
To the amazement of a number of teachers Google Wonderwheel disappeared from the search tools about a week ago.  There has been a fair level of outcry and we are hoping that Google bring back this feature by popular demand.
But what can you use in the mean time? 
You have 2 main options.
[Read more…] about What to Do Now Google Wonderwheel Has Been Removed