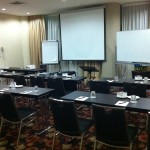 I have just finished setting up the room for my Motivate, Manage and Engage your students seminar tomorrow.  I have just looked through all the enrolments and with the exception of just one; all of the participants are new scheme teachers.
One of the greatest results from these seminars (apart from an increased student motivation and student engagement) is the questions that get asked.  I love hearing teachers ask each other questions about what is working and not working in their classrooms.
So here is your chance.  Ask a question in the comment section below and I will do my best to answer it.  The added benefit is everyone else can chip in and offer advice as well.
So…who's first?
To ensure you don't miss any answers make sure you sign up to the blog updates by using this simple form below